NITI MANTHAN REPORT ON IMPLENTATION OF STREET VENDORS ACT, 2014 With specific reference to North Delhi Municipal Corporation, New Delhi.
By: Nitish Rai Parwani
---
The modern world is witnessing the mushrooming of the urban centres in about past one century. With the movement of workforce from primary to tertiary sector is catalyzing this process. With urbanization comes a responsibility upon the state for city planning. The Union is coming up with the concept of "smart cities". Being the national capital, it is expected that the flow of urban infra policies in Delhi should be of prime standards and a model to replicate. But does the city stands up to the expectations?
Niti Manthan conducted an empirical study in the North Delhi Municipal
Corporation area of New Delhi to analyze the implementation of a newly enacted
policy for the street vendors.
---
Handbook on Media and Technology Laws in India
By: Architi Batra
---
Dissemination of information and knowledge has always been an activity of prime importance in
any community. So much so that at the time of creation, the creator Lord Brahma assigned this
task to his very own son Narada. Whenever society takes a turn, these modes of information
dissemination are always around; At times as the cause and always as the informant of change.
If this extensive is the power and the potential of media, it also became important to regulate
this field. Certain regulations, legislations and self-regulatory norms were laid down for the
media houses to ensure that information is disseminated among the masses in a fair and truthful
manner. A sub-team from the Media and Democracy research team of Niti Manthan has prepared this Handbook to summarise the legal positions, regulations and enactments which govern the information
dissemination and media platforms in India.
---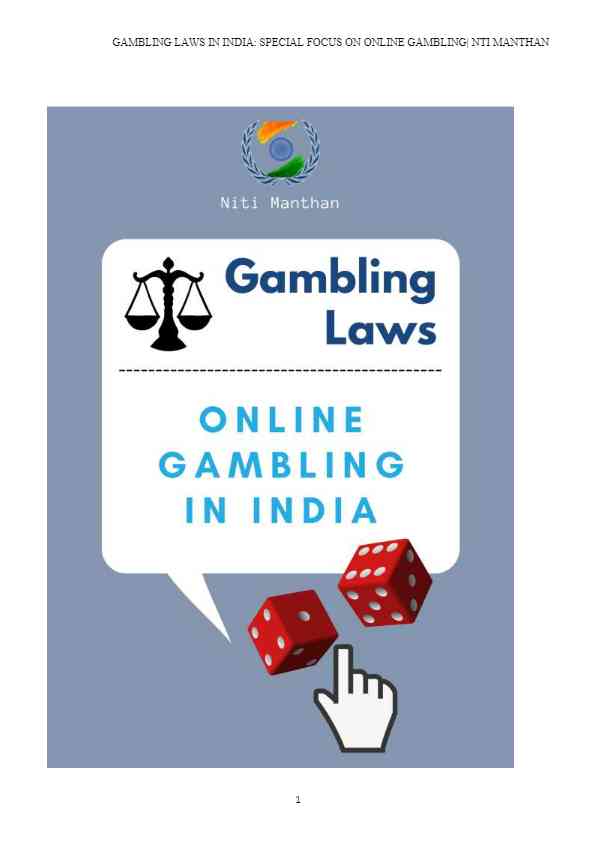 Regulations on Online Gambling in India
By: Madhav Gawri
---
With the turn of the 20th century, gambling was highly restricted by the Indian government. Gambling denounced as something that people would get addicted to. People would lose all sense of logic and give in to the temptation to bet beyond their capacity for greater rewards. So, the Indian government decided to take away the right to gamble. But did that stop Indians from being entertained by this age-old pastime? With the advent of the Internet and Technology, an increasing number of people gone online to satisfy their gambling habits. According to a report, about 40% of Internet users in India have admitted to spending some time on online gambling for fun and not with the intention of making money.
Our Project 'GAMBLING LAWS IN INDIA: SPECIAL FOCUS ON ONLINE GAMBLING', by NITI MANTHAN, focuses on the evolution of regulations on online gambling.
---
Medico-Legal Aid and Curative Sciences with legal insertions: Simplifying the medical jurisprudence
By: Nidhi Pathak
---
The medio-legal jurisprudence in India is vast yet remains an esoteric area. Through this report, Niti Manthan has made an attempt to comprehend and present areas of this jurisprudence including medical negligence, surrogacy, Biomedical waste management, Emergency Protocol in Health Facility, Lights and Siren for Emergency Medical and Services, Grievance Redressal and Health Helpline in India.
---
Rights and Responsibilities in Physician-Patient relationship in context of Medical Protection Act (MPA)
By: Architi Batra
---
The medical professionals and patients share a sweet-bitter relation. The doctor is a demi-God if the patient is cured; and its negative counterpart if the patient suffers more. In recent years accounts of doctors being thrashed by patients and their families are making headlines around the world and are frequently circulated on social media as well. At any point in their lives, between 8% - 38% of health workers experience physical abuse. On the other hand, several doctors have also been accused of being motivated by greed and of pursuing unethical methods over time through the commercialization of the medical treatment.
Through this research, Niti Manthan aims to understand the legal framework to balance the interest of patient and doctors; and to facilitate inclusivity in the health law policymaking. The research is amalgamated with a global outlook, and catalyzing holistic healthcare policy which could benefit the masses at the grassroots of India.
---